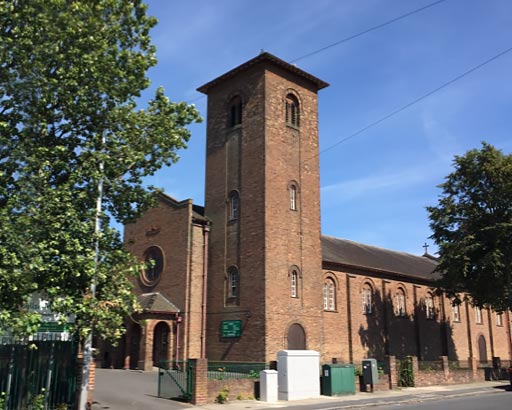 | | |
| --- | --- |
| Sunday | 10.30am |
| Monday | 10.00am |
| Tuesday | 10.00am |
| Thursday | 10.00am |
| Friday | 10.00am |
| Saturday | 4.30pm |
| | |
In 1845 a group of Catholic farmers leased a plot of land from Lord Sefton and in 1846 erected a two roomed school on the site and at that time it was known as St Joseph's.
In 1859 Ford Roman Catholic Cemetery was consecrated and it's chapel – Holy Sepulchre- opened two years later. This remained as the nearest place for Masses for local Catholics until the first intimation of a Parish in 1929. The school was renamed at that time as Holy Sepulchre School. It was in 1929 that Fr J Dickinson established a branch of CYMS and in 1930 a Parish Hall was built. The hall was blessed and opened on 5 December 1930 and given the name 'English Martyrs' This was then used to celebrate Mass until 1935.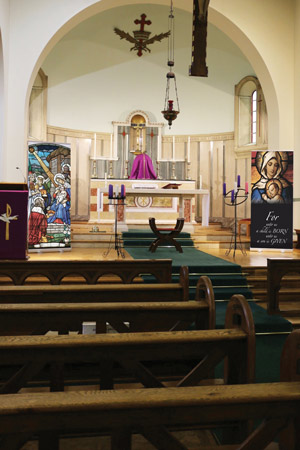 The Foundation Stone for the actual Church (the first stone laid in honour of the Holy English Martyrs) was laid on 29 April 1934 by the Most Excellent and Most Reverend Richard Downey, Lord Archbishop of Liverpool. Pope Pius X1 being the Ruling Pontiff. The Church was opened on 25 March 1935 and the first baptism, of Bernard Brennan, was   on 6 April 1935.
A feature of the year preceding the opening of the Church was the enthusiasm of the people. A list of fittings needed had been displayed and families were invited to offer to pay for them. All requirements were met at a cost of £950. The cost of the Church itself was £8000 with an extra £2000 having to be raised to pay for land and extensions to the school.
The presbytery in School Lane was built in 1949 in two stages. The ground floor being used prior to the addition of an upper storey but this meant that the priests were then in one home.
From a Catholic population of 600 in 1926 there was a rise to 3000 by 1945.
Increasing population in following years gave rise to the building of a further Church and school in Litherland. Our Lady Queen of Peace Church was opened in 1965 to accommodate the increased congregation. The two Churches existed separately serving their own parishioners until 2004 when the death of Fr Bob Starkey (Parish Priest of English Martyrs) meant that the two churches were 'twinned'.
English Martyrs school was extended to accommodate increased numbers. Four more classes being built in 1949 and a further two in 1960 with the addition of an assembly hall in 1968. By 1989 the school buildings had greatly deteriorated and a parents action group was formed to apply pressure to Local Authority, Central Government and Archdiocese for a programme to re-build the school. This campaign reached fruition in 1997 when Bishop Vincent Malone opened a magnificent new, modern school to accommodate 420 children. A new nursery was also added and opened by Bishop Tom Williams on 31 May 2012.
Parish and Schools continue to work together for sacramental programmes and community projects.